Apot.Care - Collagen and Elastin Pure Serum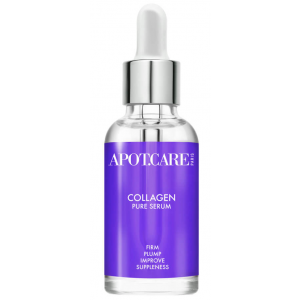 What Is It?
Give your complexion a dose of plumping hydration with this powerful serum targeting skin elasticity, wrinkles and fine lines. Collagen and elastin are abundant proteins in the body, however as we age they gradually deplete, leading to a decline in skin elasticity, as well as the formation of wrinkles and fine lines. This powerful serum boosts collagen and elastin levels, resulting in firmer, plumper and healthier skin.
---
Full Ingredient List
Aqua (Water), Hydrolyzed Collagen, Hydrolyzed Elastin, Glycerin, Pentylene Glycol, Propanediol, Dehydroacetic Acid, Benzyl Alcohol, Hydroxyethylcellulose, Potassium Sorbate, Benzoate De Sodium, Citric Acid
---
About the Brand
They say: "A French skincare label founded by Antoine Le Galloudec. Apot.Care focuses on ingredients that are clean, high quality and only contain what the skin truly needs. Actives are highly concentrated and there's no cheap fillers involved. The clean beauty lab."
---