BRAD Biophotonic Skin Care - Essential Elixir Multi-Peptide Youth Regenerating Serum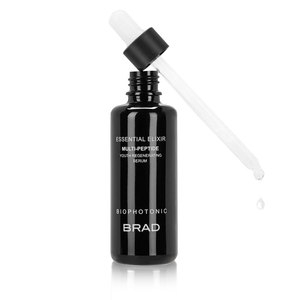 What Is It?
BRAD Biophotonic Skin Care Essential Elixir Multi-Peptide Youth Regenerating Serum hydrates, smoothes and firms for younger-looking skin. Witch hazel acts as a natural astringent to tone and tighten. Peptides reduce the appearance of fine lines and wrinkles. Jojoba oil nourishes, moisturizes without clogging pores and increases moisture levels for softer skin.
---
Full Ingredient List
Biophotonic Organic Herbal Infusion, Organic Aloe Barbadensis Leaf Juice (Aloe Vera), Hamamelis Virginiana (Witch Hazel), Hyaluronic Acid, Silk Amino Acid Blend (Sodium L-Pyrrolidone Carboxylate, Sodium Lactate, L'arginine, L-Aspartic Acid, L-Pyrrolidonecaboxylic Acid, Glycine, L-Alanine, L-Serine, L-Valine, L-Proline, L-Threonine, L-Isoleucine, L-Histidine, L-Phenylalanine), Acrylates/C10-30 Alkyl Acrylate Crosspolymer, (2s)-2-Amino-5-Guanidinopentanoic Acid, Organic Simmondsia Chinensis (Jojoba Oil), Retinyl Palmitate (Vitamin A), Tocopheryl Acetate (Vitamin E), Ethylhexyl Glycerin, Phenoxyethanol.
---
About the Brand
BRAD Biophotonic Skin Care is an American brand originally developed as a high performance skincare line for a private charter jet fleet, and now offers a comprehensive collection of potent products designed to heal, stimulate and revitalize skin exposed to even the most harsh environmental factors.
---