CosRX - Advanced Snail 92 All In One Cream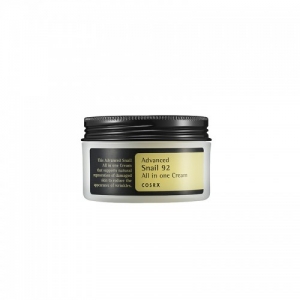 What Is It?
They say: This all-natural jelly cream contains 92% snail secretion filtrate, giving it the slick texture of a gel and all the soothing, healing, and calming properties of mucin. Skin gets a heavy-duty dose of hydration that still feels light and fresh. Acne scars and dark spots are lightened and signs of aging are softened. Gentle enough for all skin types, including sensitive, oily, and acne-prone skin.
---
Full Ingredient List
Snail Secretion Filtrate, Betaine, Caprylic/Capric Triglyceride, Cetearyl Olivate, Sorbitan Olivate, Sodium Hyaluronate, Cetearyl Alcohol, Stearic acid, Arginine, Dimethicone, Carbomer, Panthenol, Allantoin, Sodium Polyacrylate, Xanthan Gum, Ethyl Hexanediol, Adenosine, Phenoxyethanol
---
About the Brand
They say: "COSRX utilizes its 10 years of experience to continuously deliver functional, ingredient-rich cosmetics. The brand takes its name from the word "cosmetics" and the symbol "RX" (denoting "prescription") to affirm its commitment to creating effective, affordable and skin-friendly products. COSRX is known for its short ingredients list that features high quality and effective extracts and compounds that help trouble-prone, dry and dehydrated skin, as well as aging and sensitive skin. All COSRX products are 100% made in Korea and cruelty-free. "
---