Dr.TWL Dermaceuticals - Copper Peptide Hair Regrowth Serum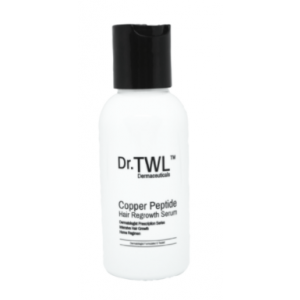 What Is It?
They say: Originally prescription only in their dermatologist's office, this hair loss serum uniquely contains Copper tripeptide, a novel molecule that stimulates hair growth. Clinically proven to have similar efficacy to that of 5% minoxidil, stimulating growth without irritation side effects or toxicity.
---
Full Ingredient List
Water, Alcohol, Glycerine, Butylene Glycol, Copper Tripeptide-1, Panthenol, PEG-60 Hydrogenated Castor Oil, Methylparaben, Polyquaternium-10, Sodium Citrate, Disodium EDTA, Benzophenone-5, Menthol, Hydrolyzed Corn Protein, Hydrolyzed Wheat Protein, Hydrolyzed Soy Protein, Sodium Ascorbyl Phosphate, Oligopeptide-1, Soy Isoflavones, Belamcanda Chinensis Root Extract, Hydrolyzed Fibroin, Methionine
---
About the Brand
They say: "Dr.TWL Dermaceuticals is a cosmeceutical and biofunctional textile research company. The company comprises of 3 subsidiary divisions, namely the Dr.TWL Custom Lip Lab – a custom makeup lab, Dr.TWL Pharmacy – a skincare e-pharmacy concept, as well as Dr.TWL Biomaterials – a materials engineering arm." Singapore brand.
---