Embryolisse - Serum Anti-Age Redensifiant - Anti-Aging Re-Densifying Serum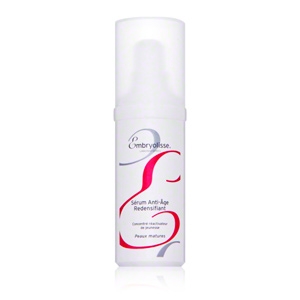 What Is It?
They say: Embryolisse Anti-Aging Re-Densifying Serum restores firmness and vitality to your facial contours with a regenerative blend of nutrients and antioxidants. Metabiotic complex strengthens connective tissue to diminish fine lines and wrinkles while protecting collagen and elastin synthesis. Hyaluronic acid plumps and brightens your complexion with lightweight moisture and resveratrol lifts sagging skin and increases elasticity.
---
Full Ingredient List
Aqua, Glycerin, Octyldodecanol, Ethylhehylglycerin, Phenoxyethanol, Glyceryl Polyacrylate, Xanthan Gum. Tocopherol, Sclerotium Gum, Chlorphenesin, Disodium Edta, Sodium Hyaluronate, Parfum, Pichia/Resveratrol Ferment Extract.
---
About the Brand
Embryolisse is a French skincare brand that is guided by the philosophy and requirement of safety and effectiveness, and has developed a whole range of care to meet all needs of the face and body to keep skin healthy and beautiful.
---