pH Advantage - Pigmentation Fader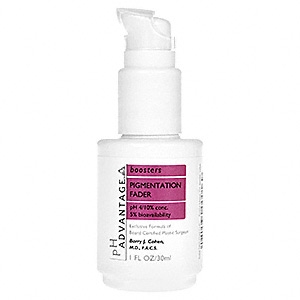 What Is It?
They say: Pigmentation Fader helps lighten hyperpigmentation and discoloration of the skin. It contains 2% hydroquinone and 10% glycolic acid and can be used site specific or all over. This fader also works synergistically with regimens to improve appearance of the skin.
---
Full Ingredient List
Hydroquinone U.S.P. 2% Water, SD Alcohol 40, Gylcolic Acid, Propylene Glycol, Ammonium Hydroxide, Sodium Sulfite, Disodium EDTA, Polyquaternium-10, Sodium Bisulfite, Citric Acid, BHT
---
About the Brand
pH Advantage is an American brand, founded by Dr. Barry J. Cohen, that makes full disclosure of all the pH levels of all its medical grade skincare products and concentrations of all active ingredients. The products are produced to deliver the appropriate and maximum bioavailability of each product, to effectively serve all your skincare needs.
---