You Skincare - Multivitamin Retinol Treatment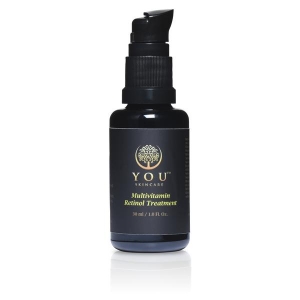 What Is It?
They say: In recent years, Bakuchiol has gained a lot of attention as the gentler alternative option of retinol. Bakuchiol is an extract found in the seeds and leaves of the plant psoralea corylifolia. It is tempting to use the newest ingredient in formulation. But my research showed that there are not enough evidences and studies to back the claims of Bakuchiol while there are so many long term studies that have proven the benefits of retinol. Yes, if used incorrectly or in the wrong formulation retinol can cause many irritations. My approach, formulate the most gentle yet effective formulations. It's not about a single active but a whole system of ingredients that work in synergy to give results. Using proven actives at the optimum dosage to get the most benefits. I invite you to try my creation. The gentlest retinol serum. It will not only give your skin the most luminous, brightest glow; it doesn't come with any irritations. The serum is packed full of vitamins and minerals that will help your skin heals, stay healthy and resilient in the long run. The Retinol in this formulation is encapsulated so it's more stable and less irritating. Are you ready to be in awe of your skin??
---
Full Ingredient List
Aqua (Water), Aloe Barbadensis Juice, Curcuma longa (Turmeric) Water, Beta Glucan, Glycerin, Sodium Ascorbyl Phosphate, Propanediol, Niacinamide, Ascorbyl Glucoside, Hydrocotyl (Centella Asiatica) Extract, Arctostaphylos Uva Ursi Leaf Extract, Cucumis Sativus (Cucumber) Fruit Extract, Chamomilla Recutita (Matricaria) Flower Extract, Salix Nigra (Willow) Bark Extract, Hydroxyethyl Acrylate / Sodium Acryloyldimethyl Taurate Copolymer, Sodium Hyaluronate, Retinol, Lecithin, Potassium Phosphate, Hydroxyethylcellulose, Pentylene Glycol, Sodium Citrate, Xanthan Gum, Dehydroacetic Acid, Benzyl Alcohol, Sodium Glutonate, Polysorbate 20, Alcohol, Potassium sorbate.
---
About the Brand
'YOU Skincare' is a streamlined set of skincare products that focus on safe ingredients that deliver results. Now more than ever, people are aware of all the chemicals we come in contact with in our daily lives, and we are starting to demand other options. 'YOU Skincare' offers you non-traditional preservatives in our products; a new skin-loving system of preservatives that not only protect the products from mold and rancidity but also benefit the skin.
---