A High-Performing Alternative to Dr. Barbara Sturm Calming Serum at a Fraction of the Price
Skincare enthusiasts may be familiar with the coveted Dr. Barbara Sturm Calming Serum, hyped for its potent soothing properties. However, its premium pricing often leaves budget-conscious consumers yearning for a comparable, more affordable alternative. SKINSKOOL's INCI comparing algorithm recently discovered a viable alternative, differing in only 2 ingredients. Enter Doctor BABOR Ultimate Calming Serum - a product that promises similar benefits from a highly esteemed brand, but at a significantly lower cost relatively speaking.
But first, people often ask, "While it's interesting to find a dupe, how do I know the pricier product is even worth replicating in the first place?" Well in this case, there's no doubt. Here's a direct quote from a member of our private Facebook group. "My dream dupe would have to be for Dr. Barbara Sturm's Calming Serum! It has worked wonders for hormonal acne flare ups and I haven't come across another product that works as well as it does."
Let's delve into a detailed comparison between the Sturm and Babor products, examining their claims, notable features, and most importantly, their ingredient lists.
Here's a snapshot of the comparison in an infographic: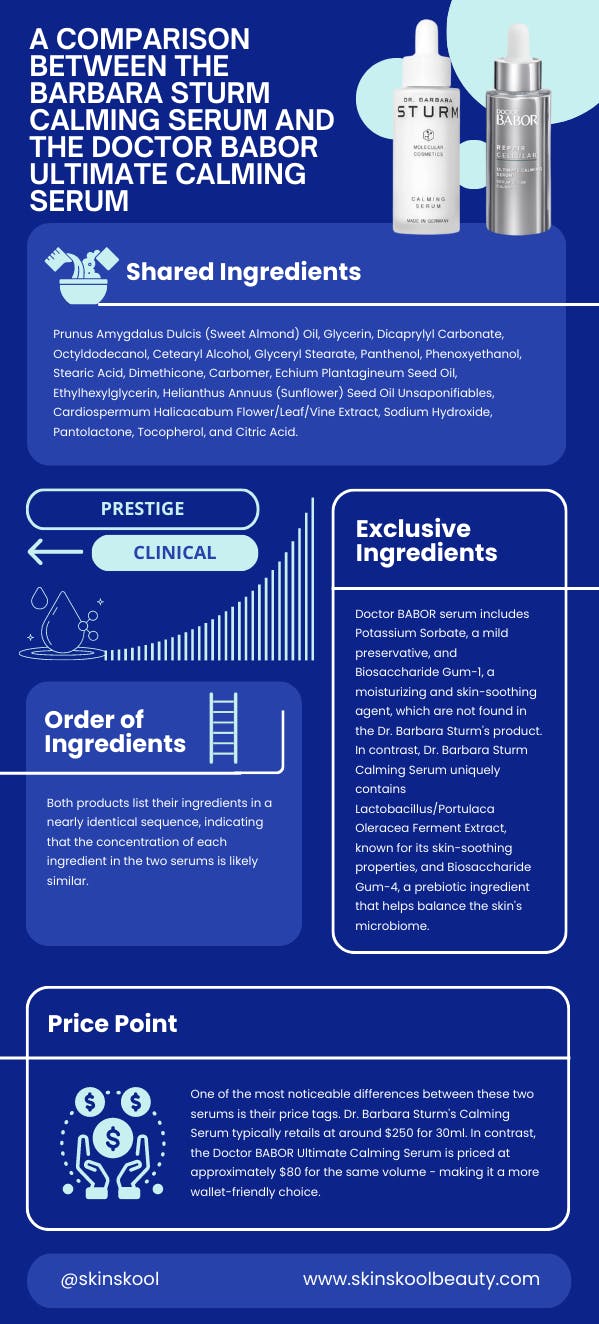 Claims
Both Dr. Barbara Sturm's and Doctor BABOR's serums boast calming and soothing properties. The former is designed to rebalance irritated skin, reduce visible signs of irritation, and strengthen the skin's natural barrier. The latter, meanwhile, positions itself as an ideal solution for stressed and sensitive skin, promising to reduce redness and the appearance of stress on the skin. As you can see, both product claims are very much similar.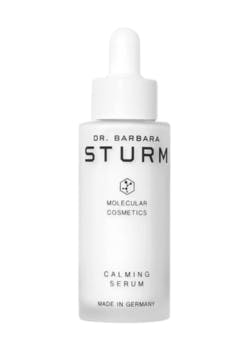 Call Outs
The Barbara Sturm Calming Serum prides itself on being fragrance-free, devoid of parabens and mineral oils, and cruelty-free, appealing to conscious beauty consumers.
Likewise, the BABOR Calming Serum maintains a clean profile. It's free from fragrance, artificial colorants, and parabens. As a cruelty-free serum, it is also an excellent choice for ethical shoppers.
Ingredient Lists
Despite these similarities, a detailed analysis of their ingredient lists reveals some interesting differences and overlaps:
Shared Ingredients: Both serums have a considerable overlap in their ingredients, such as Prunus Amygdalus Dulcis (Sweet Almond) Oil, Glycerin, Dicaprylyl Carbonate, Octyldodecanol, Cetearyl Alcohol, Glyceryl Stearate, Panthenol, Phenoxyethanol, Stearic Acid, Dimethicone, Carbomer, Echium Plantagineum Seed Oil, Ethylhexylglycerin, Helianthus Annuus (Sunflower) Seed Oil Unsaponifiables, Cardiospermum Halicacabum Flower/Leaf/Vine Extract, Sodium Hydroxide, Pantolactone, Tocopherol, and Citric Acid. These ingredients offer a variety of benefits ranging from hydration, skin-soothing to pH adjustment.
Exclusive Ingredients: Doctor BABOR serum includes Potassium Sorbate, a mild preservative, and Biosaccharide Gum-1, a moisturizing and skin-soothing agent, which are not found in the Dr. Barbara Sturm's product. In contrast, Dr. Barbara Sturm Calming Serum uniquely contains Lactobacillus/Portulaca Oleracea Ferment Extract, known for its skin-soothing properties, and Biosaccharide Gum-4, a prebiotic ingredient that helps balance the skin's microbiome.
The Order of Ingredients: Both products list their ingredients in a nearly identical sequence, indicating that the concentration of each ingredient in the two serums could be potentially similar.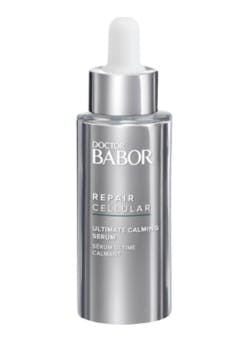 Price Point
One of the most noticeable differences between these two serums is their price tags. Dr. Barbara Sturm's Calming Serum typically retails at around $255 for 30ml. In contrast, the Doctor BABOR Ultimate Calming Serum is priced at approximately $119 for the same volume - while still in the prestige category, making it a more wallet-friendly choice.
Conclusion
To sum up, the Doctor BABOR Ultimate Calming Serum offers a compelling alternative to Dr. Barbara Sturm's Calming Serum, at a relatively much lower price. Both products share a significant number of ingredients and uphold similar claims, but the Doctor BABOR serum is significantly more accessible due to its lower price level. Both brands have a great reputation. If you did want to give the Babor a try, currently you can get 20% off your order and get an exclusive Gift With Purchase (3pc Power Serum Ampoule Set) using the code SKINSKOOL20. As always, individual skin reactions can vary, so it's always recommended to patch test any new products before fully incorporating them into your skincare routine.
SKINSKOOL is the ultimate beauty research destination to find your next holy grail product that aligns with your needs, budget and values.
You might also want to read: