I'm the Founder of SKINSKOOL and these are my favourite products
My team adds thousands of new products to our ingredient-list similarity tracker every single month. Naturally we read a lot of claims, pitches and stories. But we've developed quite a filter for marketing speak and we all regularly use the SKINSKOOL data to help us find the gems in the market. We aren't influencers so we don't get free products from brands to test so all of the products we use, we actually buy. My obsession with value, always relative, is how I find products with the ingredients I know I'll love.
A bit about me.
Age: 42
Skin Concerns: Pigmentation due to 90s era suntanning and not looking as tired as I probably am.
So what am I using now?
Daytime Routine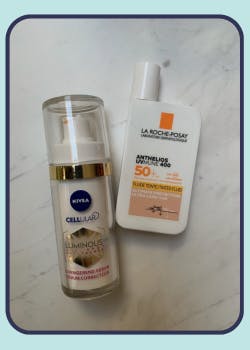 Cleanse: Water
Pigmentation Serum: Nivea Cellular Luminous 630 Anti-Spot
This was such the ultimate find! I was doing some research for a SKINSKOOL user on Eucerin products and I discovered that the patented pigment targeting ingredient in Eucerin is also in some of the Nivea products like this one. I picked it up immediately, actually multiple bottles because it's always on 1+1 promo at the drugstore. Gave one to my mom and started using my bottle religiously. Morning and night every single day. I am pretty much going to give this product credit for keeping away a large sun spot that came back after one laser treatment and now after the second treatment it's stayed away I'm convinced thanks to this product. So yes this is in my arsenal forever. I don't have a super dry skin so this hydrates enough for me during the day that I don't need another moisturizer.
SPF: La Roche-Posay Anthelios UVMune 400 SPF 50+
This is a great sunscreen that goes on very easily and has a tint that looks very natural. The pitch is that it's got their new UV filter against ultra long UVA rays to help protect against UV induced damage. L'Oreal says that the long UVA rays penetrate the epidermis the most and are among the main causes of skin aging. The formula claims to be resistant to water and sweat. It's and definitely non-greasy. The texture is very light and just goes on without having to do a lot of rubbing. Incidentally, the special UV filter in the UVMune is also used by L'Oreal in the Garnier Ambre Solaire Sensitive Advanced UV Face Fluid SPF 50. So that will probably be the next one I try.
Nighttime Routine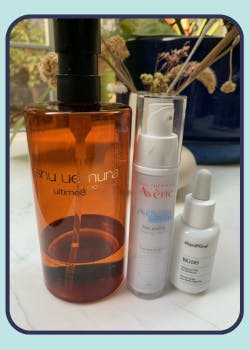 Cleanse: Shu Uemura Ultime8 Sublime Beauty Cleansing Oil
What can I say, it's the best cleansing oil that I've tried. Cheaper options I find just aren't as sensorially pleasing (fragrance, texture etc.) and let's face it, I need to really want to use this product in order to motivate every single night to start my routine.
Travel Cleanser: Clean it Zero Balm Cleanser or Paula's Choice Hydrating Gel-to-Cream Cleanser
For traveling, I always take a different cleanser as the cleansing oil is not handy to pack. So it's almost always the classic cleansing balm from Clean-it Zero (cheap and effective) or the Paula's Choice Hydrating Gel-to-Cream Cleanser which gets the job done with a satisfactory experience.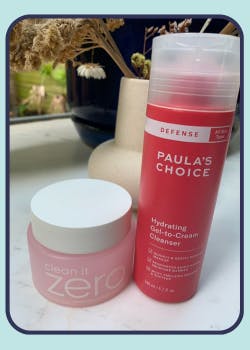 Treatment: Avène Retrinal Cream 0.1/ A-Oxitive Peeling Cream
My favourite discovery of the year has to be the Avene retinaldehyde cream. As with many of the products I start using, I discovered this in the context of my work at SKINSKOOL. Somebody was looking for the Avène - Retrinal Cream 0.1 in Europe. We discovered that the product was sold under a different name in Europe, namely Avène A-Oxitive Peeling Cream. As I'm living in Amsterdam at the moment, this is the one that I picked up. It contains retinaldehyde which is the form of retinol that is known as the "most effective" these days since it requires one less conversion by the body for it to use. More and more brands are launching retinaldehyde products and in fact we wrote about how most of them are using the same supplier.
I can't recommend this product enough. I use the retinaldehyde cream every other night after cleansing and I've never had any problem with irritation that you often hear about in relation to retinol products, but low irritation is said to be one of the benefits of retinaldehyde. After I've used it I wake up in the morning feeling like my skin looks glowing, healthy and plump. It's a highly satisfying feeling.
Last step: Khyn & Grail KG185 Botanical Oils Facial Oil
This is the product that we at SKINSKOOL developed inspired by the very best facial oil in the world, and probably the most expensive 😉. But in any case, I use this religiously, am on my 4th bottle. It's my go to last step to seal up the goodness and go to sleep. I love it.
So that is my current fall routine. It's all in all pretty minimalist – I like to keep it simple and above all, fast. If you end up trying any of these products, reach out and let me know what you think!
You might be interested in these other articles