Tinted serum with skincare benefits are now the biggest growth category in foundations in 2023
Light coverage tinted serum products are growing in popularity thanks to the steady trend of the natural skin look. Summer Fridays dropped Sheer Skin Tint with added skin heroes like sodium hyaluronate and squalane. They aren't the only brand to do so, read on to discover more light coverage tinted serums with skincare benefits.
The growing popularity of skin tints and tinted serums
It used to be that every brand was launching BB cream. It was a skin coverage product with skin benefits first made popular by Asian beauty brands. Now there is a new wave of foundation products taking over the shelves. There is a big swath of the casual foundation users who are in search of the perfect natural looking tint. This natural looking tint usually also comes with skincare benefits, hence the crossover into newly created categories called tinted serums. I am personally part of this corner of the beauty market that is always game to try the next new "sheer tint". The sheerer the better, but with enough coverage. Just like "strong enough to exfoliate but still gentle on your skin". The modern beauty shopper wants it all.
Social media darling brand, Summer Fridays has launched a product called the Sheer Skin Tint with Hyaluronic Acid and Squalane. This has all the makings of a product that I want to try. I mean, if you can have a tinted product that has skincare benefits, why would you choose the tint with no skin benefits? It's a prestige price point, 30mL for $42, but since I'm addicted to pursuing the perfect tint, I'd pay it. Beauty marketing works best when you can envision just a dab of the perfect sheer tint product and voila, you're instantly looking like the best version of yourself for the entire day.
What is Summer Fridays Sheer Skin Tint?
Summer Fridays stands out as a beauty brand boasting elegant packaging and prominent supporters that have a strong presence on social media. Their product range caters to those who desire the Los Angeles, celebrity-inspired lifestyle, with their inaugural product, the widely acclaimed jet lag mask. They incorporate all the ingredients recommended by skincare experts while avoiding those frowned upon. Hence, they tick the box for embodying the essence of a contemporary beauty brand. In other words, "all is as it should be here."
The ingredients are listed by the brand as:
Water/Aqua/Eau, Ethylhexyl Palmitate, Glycerin, Isododecane, Diethylhexyl Carbonate, Isohexadecane, Polyglyceryl-4 Diisostearate/Polyhydroxystearate/Sebacate, Polymethylsilsesquioxane, Trimethylsiloxysilicate, Sodium Chloride, C13-15 Alkane, Sodium Hyaluronate, Squalane, Niacinamide, Centella Asiatica Leaf Extract, Tocopheryl Acetate, Tocopherol, Persea Gratissima (Avocado) Oil, Camellia Sinensis Leaf Extract, Carthamus Tinctorius (Safflower) Seed Oil, Glycine Soja (Soybean) Oil, Ethylhexylglycerin, Hydrogenated Vegetable Oil, Silica, Alumina, Disteardimonium Hectorite, Magnesium Oxide, Propylene Carbonate, Zinc Stearate, Boron Nitride, Sodium Benzoate, Potassium Sorbate, Caprylyl Glycol, Phenoxyethanol, May Contain / Peut Contenir (+/-) Titanium Dioxide (CI 77891), Iron Oxides (CI 77491, CI 77492, CI 77499)
What does the Summer Fridays Sheer Skin Tint claim to do?
According to the brand, it's a lightweight skin tint that adds a touch of sheer color. The goal is an even, healthy skin appearance while infusing skin with hydration. How does it deliver the skincare benefits? The brand lists 3 points under key ingredients: tiger grass aka cica, rich emollients like squalene and other oils and a humectant blend of glycerin and hyaluronic acid. Looking closely at the ingredient list, we identified cica, sodium hyaluronate, squalane and niacinamide as the key ingredients we'd be looking for in a possible alternative.
So how do we find contextual alternatives for the different target products that we talk about?
We do this in 2 ways. First, the foundation of SKINSKOOL is an ingredient-list similarity tracker where we analyze the entire publicly available ingredient list of a target product and discover those products that contain the highest number of those ingredients. The secondary way we find alternatives for our audience is to do a much more hands on curated approach and use our database to find specific combinations of active or claims ingredients that a brand calls out in their marketing. After all, we assume you're attracted by the marketing of a target product if you're looking for a possible alternative.
You can always use the SKINSKOOL ingredient-list similarity tracker yourself and pop in any product you want to pull up the full INCI compare results. The actives and claims way of searching our database is a bit trickier and we have to do that for you. Using SKINSKOOL's database we did a search for all the skin tint products that contain the main call out ingredients of Summer Fridays, namely cica, sodium hyaluronate, squalane and niacinamide. We couldn't find any other skin tint product with that combination.
So we removed the nice to have claim ingredient, the cica, and revised the search to discover skin tints with sodium hyaluronate, squalane and niacinamide. These ingredients, coupled with a requirement that coverage be light and buildable, were the basis to find our needle in the haystack.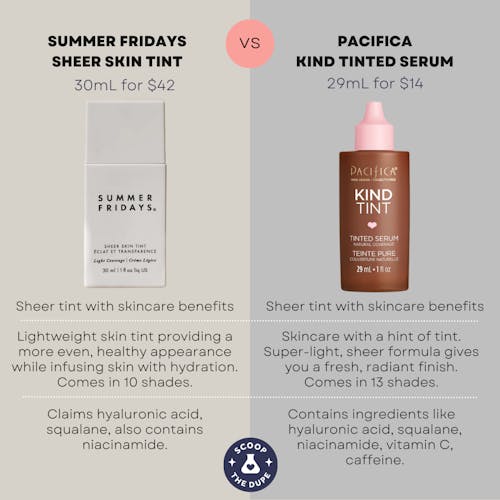 Pacifica Kind Tint Tinted Serum as a possible alternative for Summer Fridays Sheer Skin Tint
The Pacifica Kind Tint Tinted Serum claims read very similarly to the Summer Fridays product promising to provide natural coverage putting your best skin forward while at the same time benefitting from skin loving ingredients. It contains the ingredient trio that we were looking for: sodium hyaluronate, squalane and niacinamide. Coming in 13 tones, it seems like the stretch to match all skin tones is going to be similar to the 10 colours available in Summer Fridays.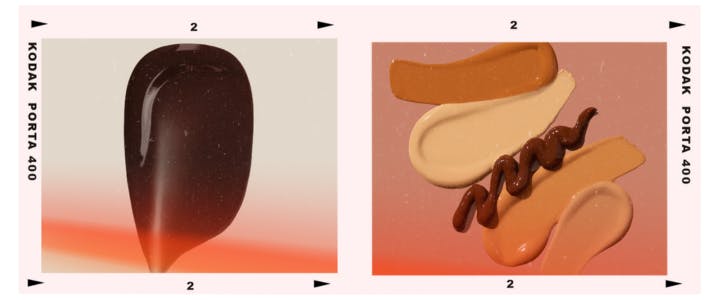 There is a price advantage with the Pacifica product. Pacifica brand is priced more in the masstige realm whereas Summer Fridays is fairly standard prestige level pricing.
I'd like to find a sheer tint with SPF. What are sheer tints with SPF that I could also consider?
If you'd like tinted serum like coverage but with SPF, we've discovered a further 2 products for your consideration. They both also contain sodium hyaluronate, squalane and niacinamide but they also have SPF protection to boot.
One of the only other skin tints to contain sodium hyaluronate, squalane and niacinamide, the Ilia Super Serum Skin Tint SPF 40 comes in 30 shades and promises, according to the brand, to fuse skincare, makeup, and sun protection into one easy step: a lightweight skin tint that leaves your skin looking like skin.
The Kosas Revealer Skin-Improving Foundation SPF 25 also contains sodium hyaluronate, squalane and niacinamide and has an SPF 25 protection. It comes in 36 shades and is more of a thicker coverage heading into the medium coverage territory rather than light. But the skin benefiting claims are similar to the rest of the products above.
You might also be interested in the following articles:
Read on to find some great Brazil Nut Body Butter product options
Read on to find alternatives for Eucerin anti pigment products
Looking for a replacement for your [Joah foundation](https://skinskoolbeauty.com/dupetalk/if-you-are-researching-the-joah-foundation-there-are-a-bunch-of-other-foundations-you-might-also-want-to-try)?