Curology Moisturzier and the products we discovered based on its ingredients
One of the most searched dupes on our platform is the Curology Moisturizer dupe and the Curology Cleanser dupe. You may or may not have heard of Curology but it was one of the first online dermatology practices offering prescription formulations for acne. They also have prescription formulations for anti-aging or dark spots. The idea is that if you don't have easy access to a dermatologist – you can get some of these fairly straightforward acne type prescriptions from their online dermatology practice.
Curology is a subscription model. So you pay a fixed price per month to get a recurring subscription of their products. After taking their telehealth quiz online, they identify what customized prescription product suits you best. That is the personalized element. The complete Curology regimen, however, also includes a Curology moisturizer (normal and rich) and a cleanser which are standard non customized products. There is an increased subscription price of $10 to add these 2 products to your subscription.
This is exactly likely the reason we see so many searches for Curology Moistuzer dupe and Curology cleanser dupe on our SKINSKOOL ingredient-list similarity tracker. There is of course a portion of people who don't want to pay a subscription but they might really like the Curology Moisturizer and Curology Cleanser.
Is Curology Moisturizer good?
One of the key ingredients according to Curology of their moisturizer is hyaluronic acid. Hyaluronic acid is that super popular ingredient in tons of products which helps skin retain moisture over time. Curology states that their moisturizer has a pH of 4.8-5.8 and is gluten-free, paraben-free, oil-free, and fragrance-free. The Curology Moisturizer ingredients are listed as follows:
Water, Dimethicone, Glycerin, Propanediol, Polysilicone-11, Cetearyl Olivate, Butylene Glycol, 1,2-hexanediol, Sodium Acrylate/sodium Acryloyldimethyl Taurate Copolymer, Sorbitan Olivate, Polyisobutene, Carbomer, Aminomethyl Propanol, Citric Acid, Caprylhydroxamic Acid, Disodium Edta, Sodium Hyaluronate, Dimethiconol, Caprylyl/capryl Glucoside, Decyl Glucoside
This looks to us as a relatively standard moisturizer with pretty common ingredients like dimethicone, glycerin and as the brand highlights, sodium hyaluronate. That being said, the texture and the absorbancy of a product can be unique to a formulation. So if you really like it, you really like it. That being said, those 3 ingredients are going to be the main ingredients we're looking for in a potential comparable alternative.
Let's take a look at what we can find. First off we begin by doing a search on SKINSKOOL's ingredient-list similarity tracker for the Curology Moisturizer. This gives us a great overview of what's out there that contains some of the same ingredients as the Curology Moisturizer. We don't know ingredient concentrations, quality or processing which will impact efficacy and price but this is a great start to narrow down the oversaturated market. You have to try products in real life to know if they work for you. SKINSKOOL is showing a bunch of products that contain some of the ingredients in the Curology Moisturizer.
The top comparables for Curology Moisturizer dupe: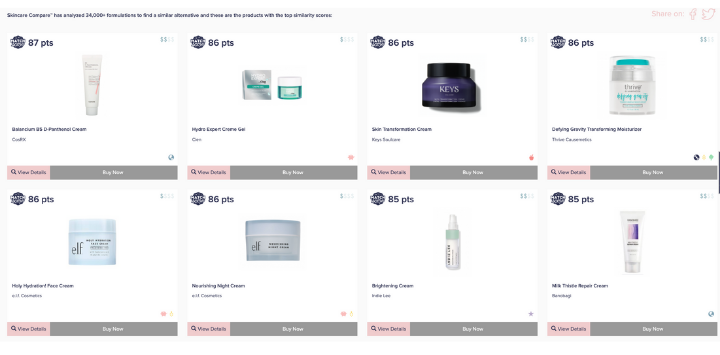 Let's get into a few.
COSRx Balancium B5 D-panthenol Cream - 87 pts INCI Match Score. This moisturizer has dimethicone, glycerin and sodium hyaluronate that the Curology moisturizer has plus it contains Panthenol which has an intense calming effect. Not only moisturizes but also strengthens the barrier to make healthy and comfortable skin. The texture is also suitable for everyday, not too heavy not too light – a daily moisturizer just like the Curology. Pricewise the COSRx is reasonable coming in at $26 for 50mL. On a plain INCI analysis alone, looks like this one is a potential goodie to check out if you're looking for a product with similar ingredients to Curology.
e.l.f. Cosmetics Holy Hydration Face Cream – 86 pts INCI Match Score. The description of this product as being packed with skin-loving ingredients, and being a nourishing yet lightweight cream that sinks into the skin for smooth, non-greasy feel and soft, supple skin made us instantly think of the Curology Moisturizer claims. Sounds similar indeed. The lightweight feel makes it suitable for an everyday type formula. Again we've got the usual suspects in the formula of dimethicone, glycerin and sodium hyaluronate. But Holy Hydration also contains squalane and the components of Matrixyl 3000, just about the most popular peptide in products targeting anti-aging. Pricewise, this one is the most affordable coming in at $12 for 50g.
Keys Soulcare Skin Transformation Cream – 86 pts INCI Match Score. This celebrity skincare product also contains dimethicone, glycerin and sodium hyaluronate. As well squalene and ceramides (the same ones in Cerave) and bakuchiol. Like the moisturizers above and the Curology Moisturizer we are comparing it to, it claims to calm, soothe and moisturize the skin. It also come in a fragrance free version. Pricewise, this one is slightly higher than the rest of the bunch, coming in at $32 for 50g.
There you have it, the ingredient-list based SKINSKOOL picks for a real potential Curology Moisturizer dupe or alternative. Remember that you can discover products based on the ingredient list of over 39,000 products on our SKINSKOOL ingredient-list similarity tracker. Game changing.