Ebanel - Liposomal Vitamin C 20% Serum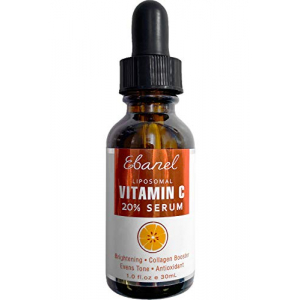 What Is It?
They say: Infused with potent ascorbic acid, Vitamin E and B5. This Vitamin C face serum helps visibly refine and brighten uneven skin tone, smooth and resurface skin texture, and reduce redness with immediate glowing benefits.
---
Full Ingredient List
Water, Propylene Glycol, Ascorbic Acid (Purest form of Vitamin C), Ethoxydiglycol, Glycerin, Phospholipids, Ascorbyl Palmitate, Retinyl Palmitate (Retinol), Tocopheryl Acetate (Vitamin E), Ferulic Acid (Antioxidant), Ascorbyl Glucoside, Panthenol (Vitamin B5), Citric Acid, Sodium Hyaluronate (Much Lower Molecular Sized Hyaluronic Acid), Triethanolamine, Phenoxyethanol
---
About the Brand
They say: We care not just about being clean but also being effective for your skin. All of our products are preservative-free, so you don't have to worry about the health risks associated with them. We use liposomal technology to give your skin better absorption and protection so you can see and feel the change.
---