Introduction
Guess what's been buzzing on SKINSKOOL lately? Yep, it's Redken All Soft Shampoo! Rising as one of the top-searched shampoos on our platform, we've got the inside scoop on what's hot, thanks to our data-driven insights. When a product like this gets so much love on SKINSKOOL, it's not by accident. There's usually a reason behind the rave, and often, it's because beauty aficionados can't get enough of it. Beyond brand reputation, it's likely due to the product's distinctive ingredient profile and specific brand claims. We're breaking down what all the fuss is about and we're uncovering some great alternatives.
A Deep Dive into Argan Oil and Redken's Brand Philosophy
Central to its formula is argan oil, a natural extract widely acknowledged for its moisturizing attributes, which addresses the challenges of dry and brittle hair. Alongside argan oil, the product incorporates Redken's patented Interlock Protein Network (IPN), designed to provide strength and support to the hair's core. The shampoo's claims are centered around imparting softness, manageability, and shine, echoing the brand's broader philosophy of combining scientific innovation with practical haircare solutions.
Understanding Redken's Interlock Protein Network (IPN)
The IPN is a technology developed by Redken to fortify the hair's core, offering protection and condition. Redken's claims for the product focuses on three main aspects:
Rebuilding: The protein component helps in restoring protein content in the hair, strengthening its core.
Protection: It forms a protective barrier around the hair shaft, ensuring the hair is protected from external damaging factors.
Progressive Conditioning: Over time, with regular use, it ensures hair remains conditioned and manages its health.
Decoding Ingredients: The Building Blocks of All Soft Shampoo
Based on the publicly available ingredient list for Redken All Soft Shampoo, let's identify and discuss elements that are likely contributors to the Interlock Protein Network (IPN) and their role in the formulation.
Hydrolyzed Soy Protein: Fortifies hair by replenishing its natural protein structure.
Arginine: An essential amino acid that bolsters hair growth and strength.
Hydrolyzed Vegetable Protein Pg-Propyl Silanetriol: Strengthens from within by penetrating the hair shaft.
Aloe Barbadensis Leaf Juice Powder: Provides moisturizing and conditioning benefits for softer hair.
Plukenetia Volubilis Seed Oil: Hydrates hair with the nourishing properties of Sacha Inchi oil.
Glycerin & Guar Hydroxypropyltrimonium Chloride: Act as vital conditioning agents, enhancing hair's moisture and manageability.
The Power of Synergy in Redken's Formula
The IPN is a concept, and the synergy between these ingredients in the formula is what likely gives the results that Redken advertises for the All Soft Shampoo. However, it's also worth noting that there are other ingredients in this formulation, like Sodium Laureth Sulfate (a cleansing agent) and Dimethicone (a silicone that provides slip and shine), which contribute to other aspects of the shampoo's performance.
Redken All Soft Shampoo vs. The Market: Haircare for Dry, Brittle Strands
Argan oil and the IPN concept distinctly differentiate the All Soft Shampoo. With this in mind, we embarked on a mission via SKINSKOOL's database to identify other shampoos on the market with comparable ingredients. Our approach is systematic. We start by listing all the desired ingredients and conducting a comprehensive search in our backend SKINSKOOL. Surprisingly, Redken's All Soft Shampoo was the sole product containing all the presumed IPN ingredients. Not deterred, we then scaled back on some ingredients in our criteria, revealing impressive alternatives that likely offer similar benefits (turning dry, brittle hair into soft, silky locks). Here are our findings:
1. For Price Advantage: Hairburst Shampoo for Dry, Damaged Hair
Description: Hairburst's Shampoo for Dry, Damaged Hair is meticulously formulated to rejuvenate and restore the vitality of strands. With an emphasis on intense hydration and repair, this shampoo integrates a combination of botanical extracts and proteins to ensure hair feels soft, healthy, and resilient.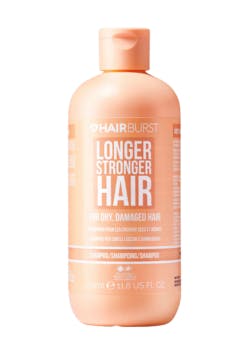 Main Ingredients: • Ammonium Lauryl Sulfate & Sodium Lauroyl Sarcosinate: Effective cleansing agents to cleanse hair without stripping its natural oils. • Triticum Vulgare (Wheat) Protein: Offers strengthening benefits while also providing deep moisture to the hair. • Glycerin: Acts as a humectant, ensuring that the hair retains its natural moisture. • Blend of Amino Acids: Essential for hair repair and restoration, supporting hair's structural integrity. • Panthenol: Enhances hair elasticity, moisture retention, and flexibility.
Brand Call-outs: Hairburst's formulation for Dry, Damaged Hair particularly highlights its use of Wheat Protein and botanical extracts, such as Ficus Carica (Fig) Fruit Extract. The brand emphasizes the restorative and moisturizing properties of these ingredients, making this shampoo an ideal pick for those seeking to revive and nourish their dry, damaged tresses.
Specific Ingredient Comparison with Redken: First observation is that Hairburst offers a significant price advantage over the Redken product. Both the Hairburst Shampoo for Dry, Damaged Hair and Redken All Soft Shampoo are formulated with the aim of addressing dry and damaged hair. They incorporate proteins and other nourishing ingredients to achieve this goal, with foundational similarities rooted in shared ingredients like Glycerin, Glycol Distearate, Citric Acid, Sodium Chloride, and Hydroxypropyl Guar Hydroxypropyltrimonium Chloride, which offers enhanced hair conditioning.
Redken makes use of Hydrolyzed Soy Protein and Hydrolyzed Vegetable Protein Pg-Propyl Silanetriol, lauded for their hair strengthening and repairing abilities. These proteins deeply penetrate the hair shaft, fortifying it from within, which leads to bolstered hair structure and reduced susceptibility to breakage.
On the other hand, Hairburst champions Triticum Vulgare (Wheat) Protein, renowned for its considerable moisturizing and reparative benefits. When combined with botanicals like Ficus Carica (Fig) Fruit Extract, Hairburst's formula offers an enriching blend designed to restore and moisturize.
Given the ingredient compositions of both shampoos, Hairburst's Shampoo for Dry, Damaged Hair emerges not only as a product with its unique merits but also as a credible alternative to Redken's All Soft Shampoo for those in pursuit of rejuvenating dry and damaged hair.
2. For Colour Protection: Pureology Hydrate Shampoo
Description: Pureology Hydrate Shampoo is an indulgent, deeply moisturizing formula designed especially for color-treated hair. With a unique blend of ingredients, it ensures hair remains vibrant and hydrated without compromising color quality.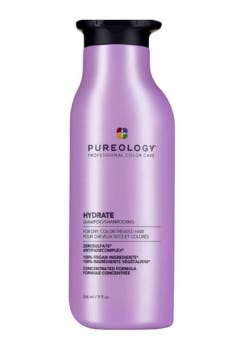 Main Ingredients: Sodium Cocoyl Isethionate: A surfactant that offers gentle cleansing. Glycereth-26 & Glycerin: Moisture-attracting agents. Amodimethicone: Adds shine and smoothness. Tocopherol (Vitamin E): Provides antioxidant and UV protection. Helianthus Annuus Seed Extract: Protects color-treated hair. Hydrolyzed Wheat Protein & Wheat Amino Acids: Strengthen and moisturize. Hydrolyzed Soy Protein: Enhances hair texture. Botanical Extracts: Offer antioxidant and soothing benefits.
Brand Call-outs: Pureology Hydrate Shampoo is not just about deep hydration. Its ZeroSulfate promise ensures that color-treated hair receives gentle cleansing without the harshness of sulfates. The AntiFade Complex is a star feature, diligently working to protect the vibrancy of colored hair from UV rays and the usual wear from washing. Moreover, its commitment to ethical formulation is evident with its 100% vegan ingredients.
Specific Ingredient Comparison with Redken All Soft Shampoo: Upon close examination, both Pureology Hydrate and Redken All Soft Shampoos share some common ground. They both harness the moisturizing powers of Glycerin, rely on Amodimethicone for that silky finish, and utilize Citric Acid for pH balance. The inclusion of Hydrolyzed Vegetable Protein Pg-Propyl Silanetriol in both formulas showcases a commitment to hair strengthening. Where Pureology diverges, and indeed shines, is in its dedication to color preservation. The AntiFade Complex, combined with the UV protection offered by Tocopherol and Sunflower Seed Extract, ensures longevity of hair color. Furthermore, its botanical line-up, including Green Tea, Rosa Centifolia, and Aloe, provides a botanical, antioxidant-rich embrace. While Redken's All Soft Shampoo emphasizes Argan Oil and IPN technology for softness and strength, Pureology's emphasis on color protection and botanical nourishment makes it a worthy alternative for those seeking a balance between hydration, strength, and color protection.
Next Steps
You now know more about Redken All Soft Shampoo then you ever thought you could so the only thing left to do is try it in real life. Check it out here. If the alternatives discovered by SKINSKOOL are more up your alley because they include colour protection like Pureology Hydrate Shampoo or offer a price advantage like Hairburst Shampoo for Dry, Damaged Hair, the choice is yours. SKINSKOOL helps you dive in, compare, and find your hair's perfect match.
You should also read: