Three Ships vs. Goop GoopGenes: Discovering Affordable Luxuries in Skincare
We've all been there, coveting whatever Gwyneth Paltrow swears by, and perpetually on the hunt for the next game-changer in skincare. The other day, we were digging around on SKINSKOOL, our algorithm that matches products based on ingredient similarities. And guess what popped up? A potential dupe alert between Three Ships' Dream Bio-Retinol + Shorea Butter Night Cream and the high-end GoopGenes All-in-One Nourishing Face Cream. The Three Ships product is the highest ingredient list match result out of the 45,000+ products in our database for the GoopGenes cream. That's pretty massive! We're not going to leave you hanging so let's break down these two creams together!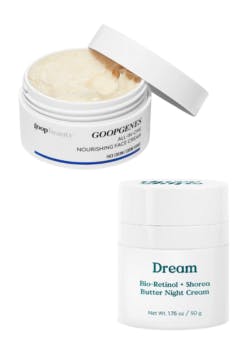 Claims
Looks like the claims check out to be highly similar. Both creams purport to provide intensive moisturization and nourishment. GoopGenes positions itself as an 'All-in-One' solution, suggesting a comprehensive approach to skincare that addresses multiple concerns simultaneously. Three Ships accentuates its inclusion of Bio-Retinol and Shorea Butter, hinting at a potent combination geared towards anti-aging and profound hydration.
Call-outs
Three Ships is a Canadian skincare brand focused on providing effective, affordable and clean beauty products. The brand is dedicated to transparency in skincare, promising to reveal every ingredient used in their products. They cater to the conscious consumer, those who want high-performance skincare that is also cruelty-free, vegan, and made with natural ingredients. GoopGenes, a line from Goop, Gwyneth Paltrow's lifestyle brand, is positioned as a high-end, luxury skincare line. It targets consumers who value luxurious experiences, high-quality ingredients, and are willing to invest more in their skincare routine. Like Three Ships, GoopGenes also markets itself as clean and cruelty free, with products free from a list of over 2000 potentially harmful ingredients. Both formulas also call out having no synthetic fragrance. What do we think? Call-outs are definitely looking like a match.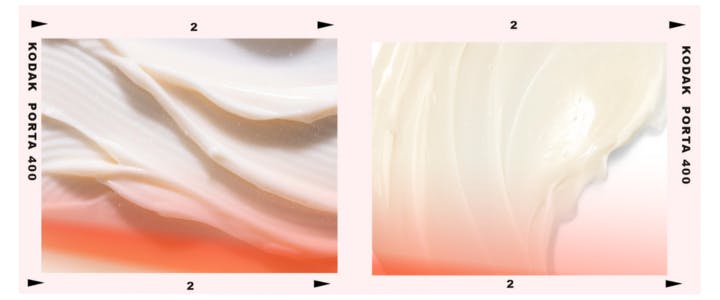 Image: Texture shot showing Three Ships on the left and GoopGenes on the right. Both looking equally gel/fluffy and glossy.
Ingredient Analysis
Ingredients in Common:
Both lists contain Aqua/Water/Eau, a common solvent.
Both use Glycerin, a popular moisturizing agent.
Both incorporate Shorea Stenoptera Seed Butter for skin conditioning.
Both contain Squalane, known for its moisturizing and antioxidant properties.
Olus Oil is another shared ingredient, used for skin softening and smoothing.
Both formulas use Propanediol, a humectant and solvent.
Dicaprylyl Ether is present in both, providing a skin-conditioning function.
Palmitic Acid is used in both formulas as a surfactant and emulsifier.
Both contain C12-16 Alcohols that work as a texture enhancer and emollient.
Hydrogenated Lecithin is found in both products, serving as a skin replenishing agent.
Diheptyl Succinate is used in both formulas as an emollient.
Both incorporate Capryloyl Glycerin/Sebacic Acid Copolymer, a skin conditioning agent.
Xanthan Gum, a popular thickening agent, is also used in both.
Caprylhydroxamic Acid, an antimicrobial agent, is present in both.
Both formulas utilize Astrocaryum Murumuru Seed Butter for its skin-conditioning properties.
Bidens Pilosa Extract (known as the bio-retinol), a plant extract known for its skin-soothing properties, is present in both.
Gossypium Herbaceum (Cotton) Seed Oil, known for its moisturizing and soothing properties, is used in both products.
Linum Usitatissimum (Linseed) Seed Oil is present in both lists for its skin-conditioning properties.
Both use Simmondsia Chinensis (Jojoba) Seed Oil, known for its skin-conditioning effect.
Tocopherol, a form of Vitamin E, is present in both products.
Helianthus Annuus (Sunflower) Seed Extract, a potent antioxidant, is also found in both products.
Differences:
The GoopGenes ingredient list includes specific ingredients like Oleyl Alcohol, Schisandra Chinensis Fruit Extract, Ribose, and a few others that are not present in the Three Ships product. On the other hand, the Three Ships product incorporates Cetearyl Alcohol, Cetyl Lactate, and Glyceryl Stearate among others.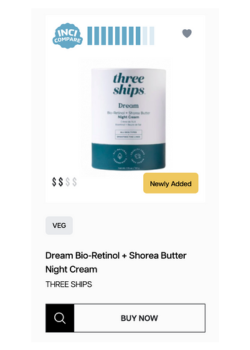 Image: SKINSKOOL ranks Three Ships as the top match for GoopGenes and gives it an 8 out of 10 bar INCI compare score.
All in, it's extremely interesting a) the sheer number of ingredients in common and b) that these also encompass very specific ingredients found commonly in products. Shorea, bio-retinol, murumuru butter etc. come to mind. As we always say though, we can't opine on the quality of the raw materials or the formulation processes. This of course can also affect product efficacy. But on an ingredient INCI list basis, it's looking very close.
Price Perspective
While prices can fluctuate based on location and sales channels, Three Ships is the more budget-friendly brand in comparison to GoopGenes' luxury positioning. Specifically, the Three Ships cream costs only $39 for 50g while the GoopGenes cream sells for $98 for 50mL. This cost-effectiveness makes Three Ships' Night Cream an enticing alternative for those desiring very similar benefits sans the hefty price.
Conclusion
Three Ships Dream Bio-Retinol + Shorea Butter Night Cream definitely stands toe-to-toe with GoopGenes All-in-One Nourishing Face Cream in terms of claims, call-outs and ingredient profile. If you yearn for hydration, nourishment, and potential anti-aging results without the upscale cost, Three Ships may be your ideal match.
You might also want to read: