Vintner's Daughter - Active Botanical Serum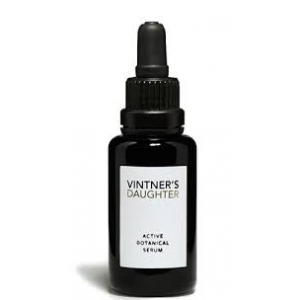 What Is It?
Active Botanical Serum is a 100% active face oil, strategically formulated to have the multi-correctional activity and penetration of a super-powered serum. Made from the world's most nutrient rich botanicals and essential oils, it is a skincare game changer that restores skin's balance, texture and natural radiance.
---
Full Ingredient List
Grape Seed Oil, Hazelnut Oil, Alfalfa leaf, Dandelion leaf, Nettle leaf, Calendula flower, Avocado Oil, Rose Damascena Absolute, Rosehip Seed Oil, Carrot Seed Oil Extra Virgin, Lavender flower, Evening Primrose Oil, Neroli Flower Oil, Bergamot Peel Oil, Frankincense Oil, Jasmine Absolute, Cypress Leaf Oil, Lemon Peel, Rosemary Leaf, Sea Buckthorn Fruit, Tumeric Root, Tamanu Oil
---
About the Brand
Vintner's Daughter is an American brand, founded by April Gargiulo, that offers a luxurious, multi-correctional infusion of 22 of the world's most active, organic and wildcrafted botanicals. Much like the fine winemaking process, Vintner's Daughter begins by sourcing the world's finest raw ingredients and honors these ingredients through an exacting and time-honored formulation process.
---