Let's Compare La Roche-Posay's 10% Pure Vitamin C Serum and L'Oréal's Revitalift 12% Pure Vitamin C + E + Salicylic Acid Serum
In the bustling landscape of skincare, Vitamin C serums have taken a prominent role, offering benefits such as brighter, firmer, and more even-toned skin. Two products catching attention of product comparison obsessives like us are La Roche-Posay 10% Pure Vitamin C Serum and L'Oréal Revitalift 12% Pure Vitamin C + E + Salicylic Acid Serum. In a nutshell, their ingredient lists are super similar, in fact they are the highest match for each other out of the entire market on our SKINSKOOL platform. We're feeling what we love to call, big dupe energy. Let's delve deep into what makes each of these products tick, comparing their ingredient lists, claims, and callouts.
Understanding the Appeal of Vitamin C Serums
First by way of review, let's cover the appeal of vitamin C serums. Vitamin C serums are commonly used in skincare routines for their antioxidant properties. Many users seek them out to address concerns like uneven skin tone, aiming for a more even and clear complexion. Additionally, consistent use of Vitamin C serums has been linked to a reduction in the appearance of enlarged pores and fine lines. As with all skincare, results can vary, but there's a reason why Vitamin C has garnered attention in the skincare community.
Back to the Compare: Ingredient Analysis
Key Similarities:
The ingredient (INCI) lists of La Roche-Posay Vitamin C and L'Oreal Vitamin C are undeniably similar, almost identical. Both products share several common ingredients such as:
Ascorbic Acid (Vitamin C)
Glycerin
Alcohol Denat
Potassium Hydroxide
Polysilicone-11
Pentaerythrityl Tetraethylhexanoate
Acetyl Dipeptide-1 Cetyl Ester (Neurosensine)
Adenosine
Sodium Hyaluronate
Salicylic Acid
Tocopherol (Vitamin E)
These ingredients help in providing skin firmness, brightness, and hydration, which are typical offerings of a good Vitamin C serum.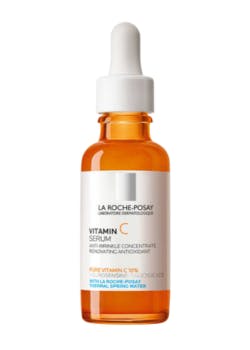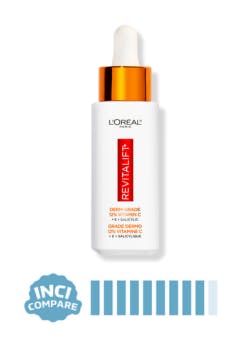 Decoding Vitamin C Concentrations: The 10% vs. 12% Debate
So one of the main differences in an otherwise very similar ingredient line up is the concentration of ascorbic acid specified on each of these products. When it comes to Vitamin C concentrations in serums, numbers often catch our eyes. La Roche-Posay prominently highlights a concentration of 10% ascorbic acid in their serum, while L'Oréal underscores a slightly higher potency with 12%. However, it's essential to understand that while a higher percentage can mean more potency, it doesn't always translate to better results for everyone. The efficacy of Vitamin C isn't solely dependent on its concentration; the overall formulation, the stability of the Vitamin C, and the synergy with other ingredients play significant roles. For most individuals, the difference between 10% and 12% ascorbic acid might not lead to a discernible difference in skin benefits. It's always advisable to consider how the product feels and reacts on your skin, as well as any other specific skin concerns you might have, rather than focusing solely on percentage concentrations.
Comparing Pricing
When it comes to the price point, there's a notable difference between the two serums. La Roche-Posay's formula comes with a slightly heftier price tag of $44.99 for 30mL, positioning it in the mid-range skincare bracket. On the other hand, L'Oréal's version, while boasting a marginally higher concentration of vitamin C, is more wallet-friendly at $32.99 for the same volume. This price gap underscores the brand positioning and perceived value of each product, with La Roche-Posay often being seen as a higher-end pharmacy brand compared to L'Oréal. However, consumers must question if the brand prestige and a 2% difference in vitamin C concentration justify the additional cost.
Under the Same Corporate Umbrella: A Badge of Consistent Quality?
La Roche-Posay and L'Oréal both fall under the vast umbrella of the L'Oréal Group, one of the global titans in the beauty and cosmetics industry. This shared lineage often translates to similarities in research, technology, and ingredient sourcing. While each brand maintains its unique identity and caters to different market segments, the overarching L'Oréal quality control and rigorous testing standards apply to both. Thus, when comparing products from these two brands, consumers can feel reassured that they're comparing items that stem from a similar heritage of expertise. This shared background might lead many to believe that, in terms of efficacy, the products will perform on par with each other, regardless of minor differences in formulations or price points.
Where To Buy
Ready to dive into the world of potent Vitamin C serums? Whether you're looking for the prestige of La Roche-Posay or the tried-and-true quality of L'Oréal, we've got you covered:
La Roche-Posay 10% Pure Vitamin C Serum: Experience the fusion of premium ingredients and cutting-edge research with this serum. Buy it here.
L'Oréal Revitalift 12% Pure Vitamin C + E + Salicylic Acid Serum: Enjoy a potent dose of Vitamin C with the added benefits of Vitamin E and Salicylic Acid, all at a value price point. Shop now.
You should also read:
Drmtlgy vs EltaMD sunscreens, you'll be surprised how similar they are
GoopGenes loved by Gwyneth has a dupe, and you may not have heard of it
There is an almost the same ingredient list alternative for the Barbara Sturm Calming Serum, find out what it is